WVU - Cross-Contamination on Fabric

West Virginia University completed a study that included a look at how sampling with the M-Vac® on a fabric substrate might affect two targeted areas that are in proximity to each other. Because the M-Vac® sprays down liquid as part of its process, there was concern that the liquid might splatter or seep and contaminate a nearby area. They found the M-VAC® can be used on adjacent stains without concerns of cross contamination.
Objective: This study set out to provide useful information to forensic DNA sample collectors by proving whether cross-contamination occurs when two separate but nearby stains are sampled using the M-Vac®.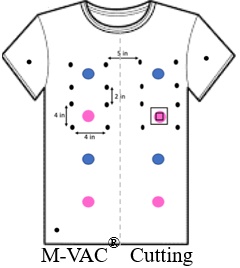 Methods: For this objective, when fluids were laid down on the fabric (new washed cotton t-shirts,) there was a male sample put down and nearby, a female sample. Thus, when both areas were sampled by the M-Vac® and later analyzed, it would be apparent whether cross-contamination happened if both male and female DNA were present.
Extraction/Analysis: Extraction was done with Qiagen DNA Investigator Kit. Then quantification was done with Quantifiler Trio™ Quantification Kit on the 7500 Real-Time PCR instrument and amplification with the Globalfiler™ Amplification Kit on the 9700 GeneAmp PCR instrument. Capillary Electrophoresis was done with Globalfiler™ Amplification Kit on the 3500 Genetic Analyzer.
Results and Conclusions: The researchers found that the M-Vac® does not "lend itself to contamination of adjacent stains." They also said that their study's results "can be used to help develop protocols and determine the best practices for DNA sample collection using the M-Vac® in forensic laboratories."
References: Evaluating the use of the M-VAC® wet-vacuum system to recover DNA from fabric: Final Report. T. Moroose, J. Dawson, and R. O'Brien, E. Combs, K. Newland.
Contact us for more details on the report.