DNA Links Nebraska Man to SLC Cold Case
In 2015, the Salt Lake City police used the M-Vac™ to process evidence from an old cold case. They got male DNA, but couldn't identify the man. A few years later, in 2018, an investigator went out to Nebraska to interview a suspect there in the same cold case. He asked for a DNA sample from the man, who complied. They had their match, and in December of 2019 that man, Bryan Harry Reed, was charged for the homicide and aggravated burglary and brought back to Utah for trial.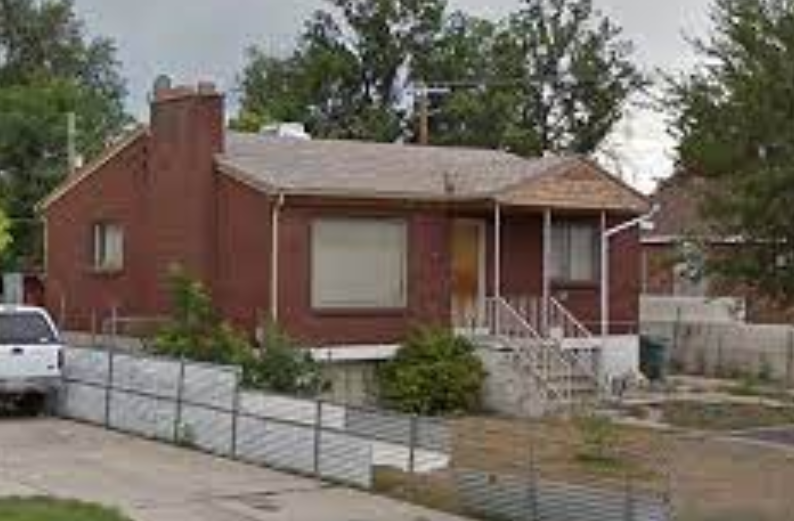 Flash back to a quiet residential street in Salt Lake City in the early 1980s. An older woman, "Billie" Wilhelmina Reid, lived alone in her home on California Avenue. She enjoyed visits from her young teen-aged niece Natalie, who often helped her with her shopping and putting the groceries away. They also enjoyed watching TV together. Billie also had a neighbor woman across the street who she would go visit and have coffee with every morning. The neighbor had a teen-aged stepson named Bryan.  

But then came a day in August of 1982 when no one had heard from Billie, so they requested a welfare check. Sadly, the 72-year-old woman was found in her bedroom, bludgeoned to death. Her family was shocked and horrified. Salt Lake City police gathered evidence at the time, including a nightgown and fingerprints. There weren't advances in the case, though, and it went cold. At some point, they tried swabbing the nightgown for DNA, but to no avail.  It was 33 years from the time of the crime when the M-Vac™ was used and DNA was successfully collected from the nightgown. It was another three years until that interview and DNA-collection in Nebraska. The male suspect was Bryan Reed, the one-time neighbor boy of Wilhelmina. He was brought back to Utah and ended up confessing that he had murdered Wilhelmina.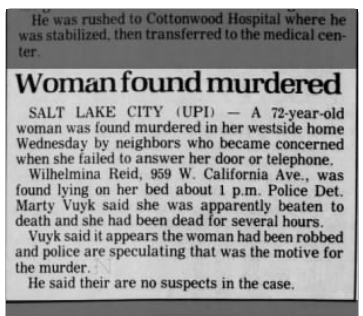 He was only 17 years old at the time. He admitted that he broke into her house through a window, found her in her bedroom, and struck her repeatedly with a baseball bat. After the murder, he went home, cleaned up, slept, and then got up the next day and got on a previously scheduled flight to Nebraska to go to college. Although his charges include aggravated burglary as well as the murder, Bryan's motives are still unclear.
As of 2023, the case is closed and Bryan Reed is finally in jail. 
Sources: